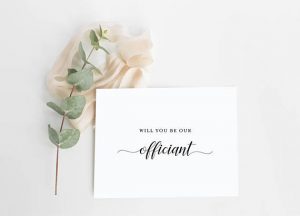 Many assume I'm a humanist and haven't really heard of a civil celebrant – or a celibate, as I often get called!
I too, had only heard about humanists and my first experience of a humanist celebrant was at a friend's wedding. It was a lovely service, in a marquee in a garden and very them. I wasn't aware there was another type of celebrant until I trained as a civil celebrant when I started working as a funeral director.
A civil celebrant fitted better with me but both are similar in that they officiate a ceremony. They offer an alternative to a church or registrar service, whether it be someone's funeral, a wedding, or something to mark the birth of a child.
Both also work in the same way regarding how a service is created (with a script) and a personal approach as well as being able to conduct a ceremony in any location (with the exception of a church, or religious building).
Celebrants work independently and they have choice regarding what they feel is appropriate to include in a couple's ceremony. However, the main difference is that humanism is a belief in itself and a way of life that people adhere to.
Humanists don't believe in religion and as such only offer secular ceremonies, so they don't include any religious aspects in their ceremonies (although you may have religious content through readings from others).
Equally, I know of some civil celebrants who also won't include religion within a service and I know of some civil celebrants who won't conduct same sex ceremonies.
Personally, my beliefs don't come into a ceremony. I feel it's about the person who has died and those arranging the funeral, or the couple – of any sex, or the family of any faith in terms of a naming ceremony.
I will include materials according to the religion, faith, belief or culture of the client, or the wishes of the loved one. So, for any civil funeral ceremony, I'm happy to read from the bible, say some prayers and to include hymns or religious music. Some people tell me, while they aren't religious, they feel religion should be included on behalf of those attending a service, for example.
And I'm also happy to not include any religious content at all.
For me, it's about making the service as personal and memorable as possible; creating a different ceremony that is unique and in which the person, the couple or the child, is central.
For funerals, it's about helping with the grieving process as well and making sure that final good bye is as good as it possibly can be for those left behind in the hope of giving some comfort at what can be a very difficult time.
When thinking about a humanist or a civil celebrant, I'd recommend meeting a few and seeing who you connect with best. The relationship, trust and understanding is important and picking someone you feel comfortable with will ensure your ceremony is much more meaningful and memorable.
Click here for useful website with more information.